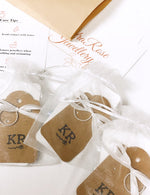 Hey there!
I'm excited to share all the new things I've been working on the last few months behind the scenes. Building a handmade jewellery brand isn't an overnight thing and I'm so thankful to have supporters like you sticking with me. 
Big things have been happening - besides new business cards and a fancy logo, KRJ is flexing those entrepreneurial muscles and really giving Barrie and the surrounding area a taste of what custom fine jewellery can be. 
Stay tuned and subscribe to my mailing list for exciting brand announcements as well as new item releases including all new limited edition gemstone options. 
Thank you for reading and I'm always here to answer any questions or chat about ideas you may have,
Kendra